SEPTEMBER 2019 | Director's Picks
Check out a few exhibitions, both local and international, that have been on our radar in this month's Director's Picks. Be sure to click on an image for more details.
Fred Wilson: Chandeliers | PACE Gallery, New York
September 14–October 12, 2019
Fred Wilson began his series of chandeliers in 2003 when he represented the United States at the 50th Venice Biennale with Speak of Me as I Am. Since then, Wilson's Murano glass chandeliers, with their evolving shifts in scale, materials, and complexity, have become vehicles for the artist's "meditations on blackness, death, and beauty." Installed hanging from the gallery's 19-foot-high ceilings, the presentation will include five chandelier sculptures from the artist's first to his most recent, conceived for the 15th Istanbul Biennial in Fall of 2017
Image: Fred Wilson, The Way the Moon's in Love with the Dark (detail), 2017, Murano glass, clear blown glass, brass, steel, light bulbs,.
The Way She Looks: A History of Female Gazes in African Portraiture | Ryerson Image Centre, Toronto
Photographs from The Walther Collection
September 11 – December 8, 2019
Main Gallery and University Gallery

Guest Curator: Sandrine Colard
Drawn from the extraordinary holdings of The Walther Collection, The Way She Looks revisits the history of African photographic portraiture through the perspectives of women, both as sitters and photographers. Spanning the beginnings of colonial photography on the continent to the present day, the exhibition features contemporary works by female artists, including Yto Barrada, Jodi Bieber, Lebohang Kganye, Zanele Muholi, Grace Ndiritu, and Nontsikelelo "Lolo" Veleko alongside 1950s studio portraits by such important historical figures as Malick Sidibé and Seydou Keïta, and nineteenth-century prints, cartes de visite, postcards, and albums.
Image : Nontsikelelo "Lolo" Veleko, Nonkululeko, from the series Beauty is in the Eye of the Beholder, 2003.
Rashid Johnson: Anxious Audience | The Power Plant, Toronto
September 21, 2019 - May 10, 2020
CURATOR: LAUREN BARNES
ASSISTANT CURATOR: AMIN ALSADEN, RBC CURATORIAL FELLOW

For his first solo presentation in Canada, American artist Rashid Johnson will undertake a major new site-specific work. This will be the fifth iteration of the Clerestory Commission Program, which invites artists to respond to The Power Plant's central light-filled space.

Johnson has attained prominence internationally for works harnessing the rich symbolism and histories of varied materials. He is renowned for minimalist black grid constructions that serve as carriers for materials including plants, shea butter and other artefacts—objects that reference collective aspects of African-American intellectual history and cultural identity.
image: Rashid Johnson, Untitled (Microphone Sculpture), 2018. Bronze panel, ceramic tile, mirror tile, animal skin, books, shea butter, ceramics, plant, oil stick, black soap, wax.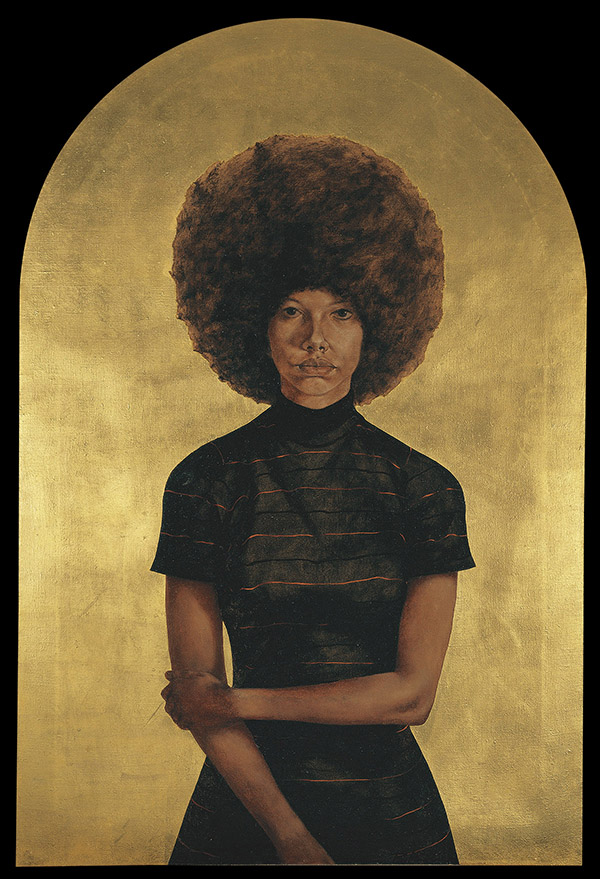 Black Refractions: Highlights from The Studio Museum in Harlem | Kalamazoo Institute of Arts, Michigan
September 14 - December 8, 2019
Reflecting nearly 100 years of art history in America, Black Refractions: Highlights from The Studio Museum in Harlem reflects the breadth of The Studio Museum's 50 years of supporting and incubating artists of African descent. The exhibition will fill all four of the main floor KIA galleries.
The exhibition features a diverse array of works created by artists of African descent from the 1920s to present. Featuring 91 works from The Studio Museum's permanent collection, this unique exhibition illuminates the museum's unparalleled impact on the art world and the community of Harlem. The exhibition is organized by the American Federation of Arts and The Studio Museum, and is touring the country while the museum completes its new building. The KIA is the only Midwest stop for this tour, with support from Art Bridges.
Image: Barkley Hendricks, Lawdy Mama, 1969 Oil and gold leaf on canvas 53 3/4 × 36 1/4 in.
Rajni Perera: Traveller | Patel x Division Projects, Toronto
September 19 - November 2, 2019
Patel Gallery is pleased to announce Rajni Perera's solo exhibition 'Traveller' opening September 19th at 6:00pm. This will be the inaugural exhibition at the newly announced Patel x Division Projects, a partnership between Division Montreal and Patel Gallery at 45 Ernest Ave.
The exhibition will build upon Perera's Traveller series, taking place in a future that could be now or may have already happened, speaking directly to issues of sovereignty, belonging, identity and personhood. As times of scarcity loom large, and as nation states push and pull on its citizenry, we see the diasporic person become the focus of the future.
The Travellers are protected by way of ancestral armor developed for body and spirit, and adapted to fit behaviors of care and nourishment, while facing the dangers of off-world commute, inhospitable terrain, and territorial dispute. These vestments have been produced slowly, in some cases over the course of many centuries.

Jasmine Thomas-Girvan & Chris Ofili: Affinities | David Zwirner, Toronto
August 30—September 21, 2019
David Zwirner is pleased to present a two-person exhibition of work by Trinidad-based artists Jasmine Thomas-Girvan and Chris Ofili at the gallery's London location. Featuring sculptural works by Thomas-Girvan alongside paintings by Ofili, Affinities will bring to light the rich artistic conversation that exists between these two artists, arising both in response to their shared environment as well as an ongoing dialogue throughout the nearly two decades they have known each other. This will be the first in a series of exhibitions in which gallery artists invite artists whose work they are inspired by to participate in a collaborative presentation.
Image: Chris Ofili, Calypso 5, 2018, Gold leaf, watercolour and charcoal on paper
Roy DeCarava: Light Break and the sound i saw | David Zwirner, New York
September 5 - October 26, 2019
Curated by Sherry Turner DeCarava
The gallery's first presentation of Roy DeCarava's work in concurrent exhibitions titled Light Break and the sound i saw shows the artist's powerful, atmospheric practice both broadly, in his many photographs that "capture a moment of life," and specifically in an extensive project focused on jazz musicians.
DeCarava was born in New York's Harlem neighborhood in 1919. He first used a camera to gather images for paintings, but by the mid-1940s, he had switched exclusively to photography. The artist describes having been being drawn to jazz as part of "a kind of total consciousness," of his daily life in Harlem.
Compiling images he had been taking for more than twenty years, DeCarava designed, wrote, and put together the sound i saw as an artist book in the early 1960s. Unpublished for almost half a century, the project records his photographic exploration of the relationship between the visual and aural through his gaze on legendary musicians Ornette Coleman, John Coltrane, Duke Ellington, and Billie Holiday, among many others.
Image: Roy DeCarava, Curved branch, 1994.